Enjoying the Holidays After Weight-Loss Surgery

One of the biggest concerns New York Bariatric Group patients have voiced before getting bariatric surgery is whether they will be able to enjoy a holiday meal like they used to. The answer is a resounding, Yes! Long-term weight-loss surgery doesn't mean the end of celebrating, it's just the beginning! Weight-loss surgery can enhance your overall well-being, allowing you to fully enjoy the holiday season without sacrificing your health goals.
Don'ts and Do's During the Holidays
It's essential to focus on quality over quantity. Opt for smaller portions of your favorite holiday dishes and savor each bite. NYBG Registered Dietician, Sharon George, shares some Do's and Don'ts to help you during the holiday season.
Don't:
Go to a party hungry
Drink less than 8 glasses of hydrating fluid daily
Think of the season as a "Holiday"
Be sedentary
Leave with leftovers
Do:
Bring a healthy dish to share
Avoid fizzy drinks (which can cause reflux and can cause your stomach to stretch)
Drink alcohol in moderation (enjoy 6 months after surgery)
Have fun and enjoy the company of friends and family
Delicious Holiday Recipes
Here are some recipes you can make during holidays that you will be sure to enjoy.
Bloody Mary
Mix:
2 parts cucumber vodka
2 parts low-sodium tomato juice
Splash of fresh lemon juice
Cosmo
Mix:
2 parts vodka of choice
2 parts crystal light fruit punch
Splash of fresh lemon juice
Eggnog
Mix:
1.5oz cinnamon flavored vodka
3 oz low fat eggnog
Spring of ground cinnamon
Skillet Apple Cider Chicken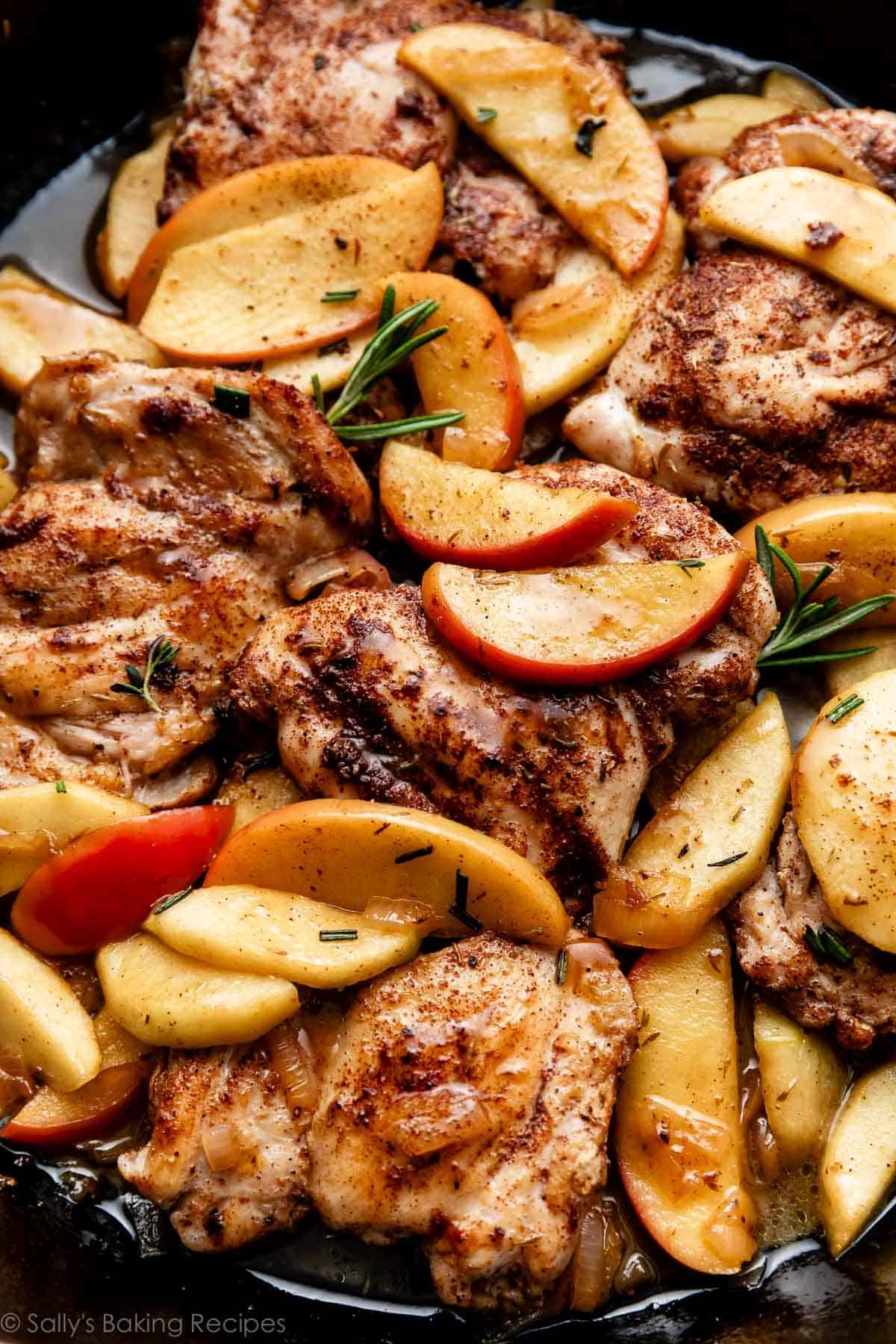 Ingredients
1 lb boneless skinless chicken breast
2 Tbsp olive oil
2 medium tart apples, cored and chopped
12 oz apple cider
2 Tbsp chopped fresh thyme
2 Tbsp whole grain mustard
½ tsp kosher salt
2 cups Brussels sprouts, trimmed and halved
Directions
Heat oil in a large skillet over medium-high heat.
Add chicken and sear for 5 minutes on each side. Remove from pan and set aside.
Add apples to pan and cook for 5 minutes, stirring occasionally, until lightly browned. Remove from pan and set aside.Drain drippings from the pan.
Add apple cider, thyme, mustard and salt to pan. Bring to a boil.
Reduce heat and add chicken. Cover and simmer for 10 minutes.
Add brussels sprouts, cover and cook for 5 minutes.
Add apples and cook uncovered for another 5 minutes, until the apples are warm and chicken is cooked through.
Remember, holiday meals are about more than just food. Focus on the joy of spending time with loved ones, creating memories, and expressing gratitude!
New York Bariatric Group Makes Weight-Loss Easy
Considering weight-loss surgery? New York Bariatric Group is the best practice around and has the numbers to prove it:
Surgeons who are leaders in bariatrics, plastic surgery, veins, and medical weight loss
42,000 successful procedures performed with more every day
The #1 gastric balloon practice by volume – most balloons placed in the United States
Access to online seminars, support groups, cooking demos, and Q-and-A sessions
100s of videos for patients explaining procedures, answering common questions, and
showcasing previous patients
Multiple offices located in three states; NY, NJ, CT
Since 2000, we boast over 23 years of success!
All of our hospitals are Metabolic Bariatric Surgery Accreditation and Quality Improvement Program (MBSAQIP) accredited facilities, which is a prestigious designation bestowed upon only the top quality bariatric programs.
Stop waiting; start achieving better health today. Together, we've got this!
New York Bariatric Group is implementing and enforcing strict guidelines put out by the Center of Disease Control and the Department of Health in order to keep our staff and patients safe.
We are offering in-person and virtual consultations to ensure that everyone is able to get the information and care they deserve without feeling pressure to leave their home.