CELEBRATING ST. PATRICK'S DAY THE RIGHT WAY AFTER BARIATRIC SURGERY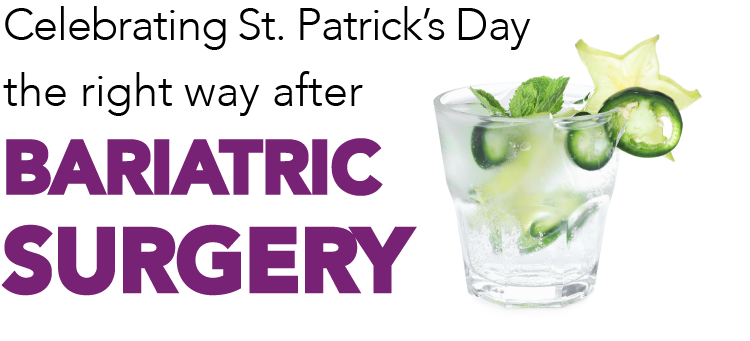 Just because you've had bariatric surgery, doesn't mean you can't continue to enjoy celebrations like St. Patrick's Day. Many New York Bariatric Group patients were worried they would have to drastically change the way they eat and drink when going out to celebrate after surgery.
NYBG patient Rob, who lost 130 pounds after his surgery remembers, "One of my main concerns with having the surgery was I was never going to be able to eat like a regular person again and enjoy life like I was before, but as a matter of fact I was able to enjoy life more because I felt good about myself and I could go to a restaurant and have a normal dinner."
STAYING ON TRACK IS KEY
NYBG Nutritionist, Sharon George says don't forget your plan and your routine. Continue to eat meals three times a day rich in protein and vegetables. Don't sacrifice all the hard work you have done for one day! She suggests eating at home before going out to a party and bringing a healthy appetizer or dish with you to share.
Yes, you can drink alcohol after bariatric surgery, but in moderation. NYBG surgeon, Dr. Alph Emmanuel recommends waiting 6 months after surgery before drinking alcohol. He says even small amounts of alcohol will affect you quickly. It's always best to consume alcohol in moderation for your overall health and be mindful to stay well hydrated.
ST. PATRICK'S DAY RECIPES
The nutritionists at NYBG have come up with some recipes for you to enjoy during St. Patrick's Day.
Skinny Cucumber Jalapeno Margarita
Ingredients:
2 oz. Tequila
1 tsp Agave
3 Cucumber slices
1 Jalapeno slice
1 Cucumber wheel for garnish
1 Jalapeño slice for garnish

1 oz. fresh lime juice
Colcannon
Colcannon is a traditional Irish potato recipe made with cabbage or kale. This recipe uses cauliflower instead of potatoes as a healthier option to enjoy a St. Patrick's Day crowd favorite.
Ingredients:
1 large head of cauliflower cut into florets
¼ stick of unsalted butter/ 2 tablespoons
3 cups of chopped Kale
2 pieces of scallion chopped finely
1/3 cup fat free milk
Salt for taste
Directions:
Boil the cauliflower in a medium to large pot
Cook, covered until fork tender for about 8 minutes
Drain in a colander
In the same pot, melt 1 teaspoon butter medium high heat and add the garlic and scallions, cook for 1 minute
Add kale to the pot, ¼ tsp salt, cover and cook until wilted, 6 to 7 minutes
In a blender, puree the cauliflower with milk, transfer to the pot with the greens
Add 2 teaspoons butter, 1/4 teaspoon salt and pepper, keep warm
To serve, transfer to a bowl and top with remaining teaspoon butter.
START YOUR WEIGHT-LOSS JOURNEY WITH NYBG
NYBG is here to help you start your successful weight-loss journey.
Bariatric surgery is a safe, effective long-term weight-loss solution that helps thousands of
people lose weight and keep it off. Many studies show that patients maintain 50% to 70% loss
of excess weight 10+ years after bariatric surgery.
We're the best practice around and our numbers prove it:
27 skilled surgeons who are leaders in bariatrics, 2 Plastic Surgeons, 21 PA's, 1 Colorectal Surgeon, and 1 Vascular Interventional Radiologist.
36,000 successful procedures performed with more every day
The #1 gastric balloon practice by volume – most balloons placed in the United States
Access to online seminars, support groups, cooking demos, and Q-and-A sessions
100s of videos for patients explaining procedures, answering common questions, and showcasing previous patients
Multiple offices located in three states; NY, NJ, CT
Since 2000, we boast over 20 years of success!
All of our hospitals are Metabolic Bariatric Surgery Accreditation and Quality Improvement Program (MBSAQIP) accredited facilities, which is a prestigious designation bestowed upon only the top quality bariatric programs.
Stop waiting; start achieving better health today. Together, we've got this!

New York Bariatric Group is implementing and enforcing strict guidelines put out by the Center of Disease Control and the Department of Health in order to keep our staff and patients safe.

We are offering in-person and virtual consultations to ensure that everyone is able to get the information and care they deserve without feeling pressure to leave their home.