z100's Mo' Bounce had weight loss surgery with Dr Shawn Garber on January 16, 2012. In less than 3 months he has lost 50lbs! Mo' said, "It's amazing to have lost 50lbs so quickly! I lost 30lbs in the first month alone but have been losing 8-10lbs steadily since then. Dr Garber says I'm right where I should be and I feel like a new man. I didn't think it was possible to feel this way." Mo' is down from 270lbs to 220lbs.
He said, "The first thing I noticed was my energy change. I have so much energy now that I'm thinner! I wake up earlier, I don't feel any fatigue, I don't even drink coffee or red bull anymore! This experience has been amazing. The only negative is buying new clothes can be expensive but, it's a problem worth having! It all works out because I'm spending less money on food so I can spend more on new clothes. I'm down 2 sizes in my shirt and 3 pant sizes!"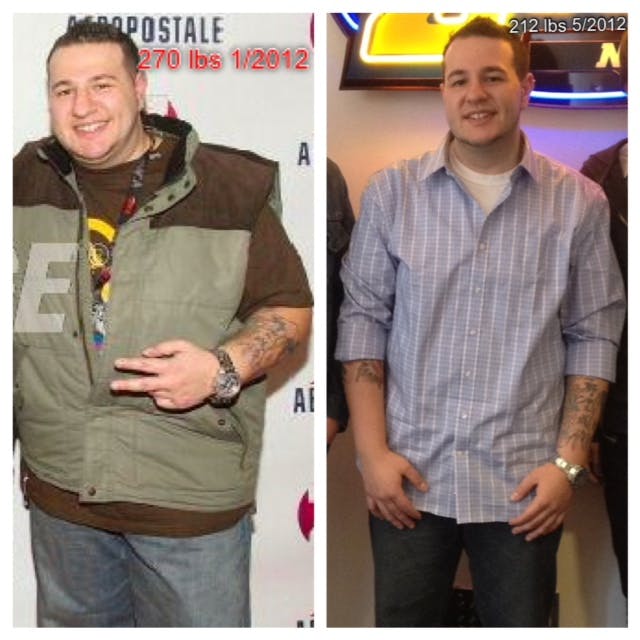 When asked if he would recommend us to a friend Mo' replied, "Absolutely! And I have! I am very open about my weight loss surgery and I answer questions about it all the time on my facebook and twitter accounts. I have also personally recommended a few friends who were interested. The whole process was very easy and seamless for me. I didn't feel any pain. I have been very conscious of my food choices as well. I don't eat bread, rice or fried food; I simply don't crave those foods anymore. I work out more because I'm not winded. The compliments I receive have made me more confident and therefore have given me more reason to want to lose ever more weight. Surgery is NOT the easy way out, it doesn't change your brain but seeing the weight loss really encourages you. Dr Garber's office continuing support has also helped me greatly. I've seen Dr Garber once a month since my surgery and every time I see him he's very supportive and he always gives wonderful tips."
You can follow Mo' Bounce on on twitter @z100MoBounce or on his facebook page https://www.facebook.com/z100mobounce
Virtually Scarless Single Incision Sleeve Gastrectomy offered at the New York Bariatric Group
The New York Bariatric Group is proud to be among the first and only surgeons in the area that now offer Virtually Scarless Single Incision Sleeve Gastrectomy. SILS Is an advanced minimally invasive approach in which the surgeon operates exclusively via a single entry point through the "belly button" Single incision sleeve gastrectomy surgery patients have less pain and little or no scarring. The cosmetic results are amazing! Laparoscopic gastric sleeve resection is a newer procedure in which about 75 to 80 percent of the volume of the stomach is removed, while maintaining the natural openings into and out of the stomach. This procedure is simpler to perform than gastric bypass resulting in lower complication rates than gastric bypass. Because we are not changing the gastrointestinal track it decreases the chances of complications like vitamin deficiencies that occur with gastric bypass surgery. Patients can lose weight similar to gastric bypass surgery over a pretty rapid time and help to resolve medical problems such as Type II Diabetes, Sleep Apnea, Hypertension and Heart Disease.Now that we offer this procedure through a single incision it results in improved cosmesis and a quicker recovery. Patients usually spend only one night in the hospital.
Contact our office at 888-8-LAPBAND and ask your surgeon if you qualify for the new virtually scarless SILS sleeve gastrectomy.