New York Bariatric Group's October 2015 Newsletter – October is Breast Cancer Awareness Month – Roasted Artichoke Spinach Chicken – Fall Fitness Tips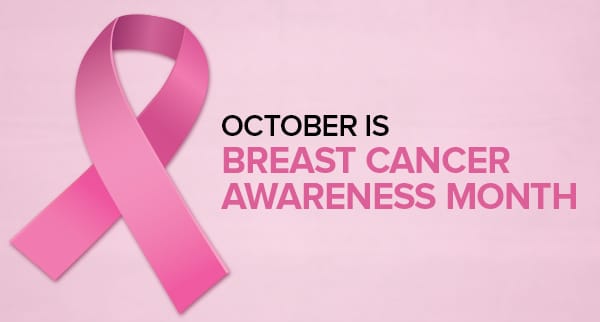 October is Breast Cancer Awareness Month, which is an annual campaign to increase awareness of the disease. While most people are aware of breast cancer, many forget to take the steps to have a plan to detect the disease in its early stages and encourage others to do the same.
This October, NYBG is proud to participate in National Breast Cancer Awareness Month. Breast cancer is the second most common kind of cancer in women. About 1 in 8 women born today in the United States will get breast cancer at some point.
Many studies have shown that overweight and obesity are associated with an increase in risk of postmenopausal breast cancer. This higher risk is seen mainly in women who have never used menopausal hormone therapy and for tumors that express both estrogen and progesterone receptors.
The good news is that many women can survive breast cancer if it's found and treated early.
If you are a woman age 40 to 49, talk with your doctor about when to start getting mammograms and how often to get them.
If you are a woman age 50 to 74, be sure to get a mammogram every 2 years. You may also choose to get them more often.
Talk to a doctor about your risk for breast cancer, especially if a close family member of yours had breast or ovarian cancer. Your doctor can help you decide when and how often to get mammograms.
Roasted Artichoke Spinach Chicken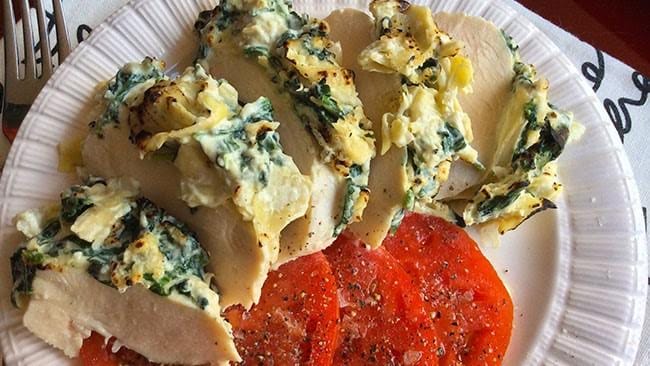 Prep time
15 min Cook time: 20 min
Total time: 35 min
Calories: 309.849kcal
Protein: 54g
Fat: 8g
Carbohydrates: 5g
Sugar: 0g
Description
The Artichoke Spinach Dip itself is low fat as the standard 'block of cream cheese' and cup of mayonnaise have been replaced by Greek yogurt. The combination of warm creamy Parmesan cheese, artichokes, and garlicky sautéed spinach is a winner.
Ingredients
Serves 6
6 boneless chicken breasts
1 teaspoon olive oil
2 garlic cloves minced
One, 5 ounce bag, washed baby spinach
One, 13.75 can artichoke hearts packed in water, well drained, chopped
⅓ cup Greek yogurt – use Fage brand, it's so much better than other brands
1 tablespoon Hellmann's Mayonnaise
⅓ cup grated Parmesan or Romano cheese
¼ teaspoon sea salt
½ teaspoon black pepper
¼ teaspoon crushed red pepper flake
Directions
Preheat oven to 400 degrees.
To ensure your chicken is 'Bariatric tender', center a piece of wax paper or plastic wrap over each piece of chicken and give a couple of whacks to the thick end using the flat side of a meat mallet or bottom of a small heavy saucepan. This creates a more even thickness that retains juiciness as you won't be overcooking the thin side so the thick side is done.
Arrange chicken in a shallow baking dish, season with salt and pepper. Roast until chicken tests for 150 degrees using an instant read meat thermometer, about 10 to 12 minutes.
Heat olive oil in a small skillet, sauté garlic and baby spinach until wilted and liquid has evaporated, 2 to 3 minutes.
Make artichoke spinach dip by blending cooked spinach mixture, artichokes, Greek yogurt, mayonnaise, cheese, salt, pepper and red pepper flakes in a small bowl until creamy and well combined.
Remove chicken from oven and turn on broiler to 450 degrees. Using two spoons top each chicken breast with a portion of the Artichoke Spinach Dip. (I use about half for the chicken and remaining half to top another meal.)
Return to oven and broil until the mixture melts over the chicken and edges brown, 6 to 8 minutes. Serve immediately.