New Website
You will now have access to our over 90 educational videos, before and after photos as well as videos of our patients, access to our online information webinars and support groups, access to our online store that includes all products for bariatric patients, the live chat with our staff feature, message boards, monthly newsletters and blogs!
New Office
Our New Hyde Park office has been successful in offering patients the care and attention that they need. Along with the opening of our Manhattan office in Gramercy Park in April 2010, we will now also have an office in Port Jefferson in Suffolk County. These offices offer patients the convenience and access to any of our three locations.
Dorothy, 59, Seoul, Korea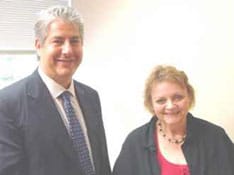 Dorothy Acquaviva recently started to gain back some weight and needed a bariatric revision procedure known as laparoscopic gastric banding over bypass. Dorothy found the New York Bariatric Group's Director, Dr. Shawn Garber who has the most experience nationwide with revision procedures such as the laparoscopic gastric band over gastric bypass and the Rose procedure. "I couldn't find many doctors who do gastric banding over bypass," said Acquaviva, "And of the few I could find, only Doctor Garber responded to my e-mail inquiries from Korea." A month after surgery, she had lost 11 pounds and prepared to return to South Korea looking forward to losing even more weight.