Thanksgiving Countdown! Pregame for the Big Day

Eat a good breakfast rich in protein!

Try an omelet with leftover veggies (if you are more than 1 month post op) in the house!

Exercise for at least 30 min- Cardio with interval resistance

VHP: watch one On Demand behavior video

Go to sleep 15 min earlier than usual

Deep breathe for 10 min before getting out of bed and starting your day

Select a healthy "new" meal, appetizer, or dessert to bring with you on Thanksgiving (See attached VHP recipe)

Get outdoors for at least 20 min! Take a walk, hike, walk the dog, rake leaves…

…

Drink 64oz hydrating fluid and one new sugar free, non-carbonated, decaffeinated beverage

Go to sleep 15 min earlier than usual

Stretch for 10 min before leaving for work or starting your day

Prepare yourself and bring a protein rich lunch to work or prepare and eat at home. Do not do any work while eating. Enjoy your minutes to yourself

Exercise for at least 30 min- weight resistance. Use canned goods if you don't have weights in the house. Try a new VHP video from the On Demand Library

Deep breathe for 10 min before getting out of bed and starting your day

Drink 64oz+ of hydrating fluid throughout the day

Don't skip meals! Make sure you get 3 meals in of quality protein and vegetables

Stretch for 15 min before bedtime

Go to sleep 15 min earlier than usual

Wake up 15 min later than planned

Deep breathe for 10 min before getting out of bed

Take breaks during the morning while you are prepping and cooking. Walk outside or do a lap around your house.

Hydrate well all day!

Enjoy your family and/or friends and the tradition of being thankful today – and remember...no second servings!
We are thankful to all our patients for being a part of New York Bariatric Group!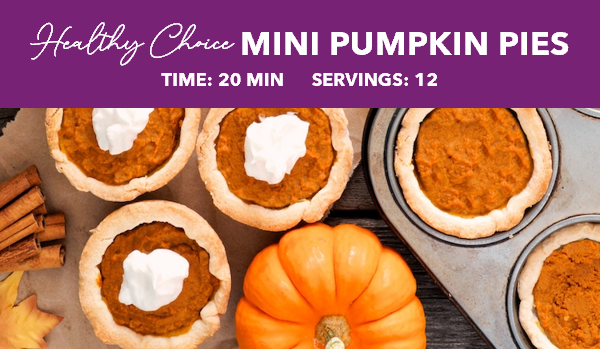 INGREDIENTS
Cooking spray

12 wonton wrappers

3/4 cup canned pumpkin puree

3/4 cup low-fat ricotta cheese

2 packets no-calorie sweetener

1 teaspoon vanilla extract

1/2 teaspoon pumpkin pie spice

1/2 teaspoon cinnamon

Dash of salt

Optional toppings: light whipped topping, chopped pecans
DIRECTIONS
Preheat oven to 350°F. Spray a 12 cup muffin pan with cooking spray.

Place a wonton wrapper into each cup in the muffin pan. Gently press it into the bottom and up along the sides. Lightly spray the wrappers with cooking spray. Bake for about 8 minutes, until lightly browned.

In the meantime, combine the pumpkin puree, ricotta cheese, no-calorie sweetener, vanilla extract, pumpkin pie spice, cinnamon and salt and in a medium bowl. Stir well to mix.

Spoon about 2 tablespoons of the pumpkin filing into each wonton cup. Add additional toppings if desired.
NUTRITION INFORMATION
Amount per serving: Calories 50, Calories from Fat 13.5, Total Fat 1.5g, Saturated Fat 1g, Trans Fat 0g, Cholesterol 5mg, Sodium 75mg, Total Carbohydrates 7g, Dietary Fiber 0g, Sugars 1g, Protein 3g, Calcium 50mg (4%), Potassium 27mg (0%)