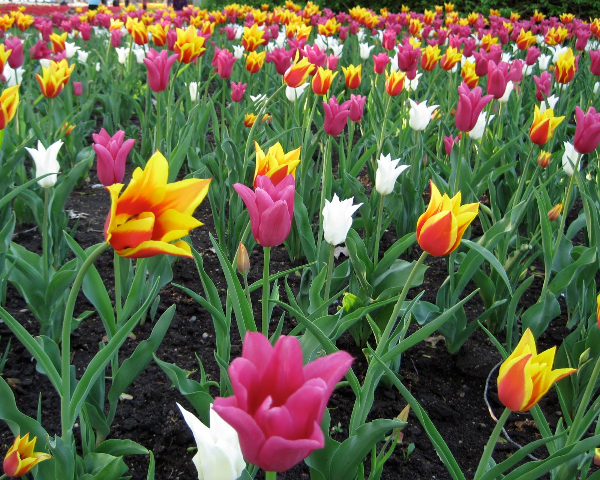 Happy Mother's Day to all Moms!
Mothers hold their children's hands for a while, but their hearts forever.
May is National Egg Month
The incredible edible egg has many benefits for everyone, but especially for the post-operative bariatric patient. Despite being delicious, eggs prepared without extra fat provide an easily digestible form of protein. High-quality protein also helps in weight management.
Eating more high-quality protein foods, such as eggs, and fewer carbohydrates when you're dieting helps preserve lean muscle tissue and increase fat loss. Foods that are high in protein rate high on appetite satisfaction, too. In studies, dieters who started the day with an egg-based breakfast felt full longer and ate fewer calories throughout the rest of the day.
Eggs contain many more than 100 flavor components and provide a well-rounded, but neutral, richness. When you cook eggs, you can let that richness stand delicately on its own or can let the flavor of eggs serve as a backdrop for more strongly flavored foods or seasonings. Because their distinct flavor doesn't clash, eggs go well with almost every other food and are appealing to people all over the world.
Eggs are also easy to cook. The basic methods of cooking – scrambled, fried, cooked in the shell, poached and baked eggs – are often among the first foods a beginning cook learns to prepare. Other eggs dishes, including deviled eggs, omelets, quiches, frittatas, range-top bakes and strata casseroles, are also uncomplicated and make great family fare. So if you find yourself searching for something to cook this month, remember "National Egg Month" and whip up a dish with eggs!
NYBG General Surgery
At New York Bariatric Group, our bariatric surgeons are also board-certified general surgeons with great expertise in performing advanced minimally-invasive general surgery including: Inguinal, Ventral, Incisional Hernia Repair, Cholecystectomy, Colectomy, Paraesphageal Hernia Repair, Anti-Reflux Surgery, Small Bowel Resection, and Appendectomy. If you or someone you know needs an experienced, caring general surgeon, please call 800-633-THIN to schedule a general surgery consultation. Most major insurances accepted.
All pre and post-operative
bariatric patients welcome!
When: Wednesday, May 20th at 7:00PM
Where: St. Charles Hospital
Board Room 2 – 2nd Floor
200 Belle Terre Rd.
Port Jefferson, NY
RSVP on our website or to Jacqueline Bertolino at:
[email protected] or 516-445-8860
Please join New York Bariatric Group and Executive Chef Bill Dougherty for this support session. This is a great opportunity to meet with fellow patients and sample new recipes. All food prepared will be served to patients and guests. All recipes will be provided. We hope to see you there! Family and friends welcome!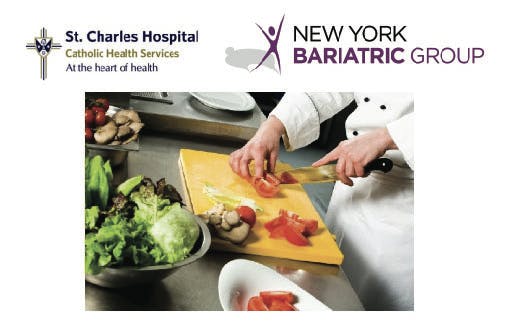 NYBG Nutrition Corner
by Dr. John Angstadt Missing Pasta?
We have all grown up with a love of pasta but for bariatric surgery patients, most carbohydrate foods are off limits. How can we satisfy our love of pasta with our new eating regimen? Its easy if we look at creative alternatives that give you the texture of pasta but with more flavor, protein and vitamins.Your first alternative is shirataki pasta made from Tofu. This pasta has the texture of real pasta but absorbs tomato sauces really well. Most typical white flour pastas have 200 calories per serving. Shirataki pasta has only 20 calories per serving and it is high in protein which goes well with our eating regimen after surgery. It is easy to prepare in the microwave and a wonderful alternative to traditional pasta. It is available on Long Island in Whole Foods, Wild by Nature and Stop and Shop- you will usually find it in the organic refrigerated section of the store.Another alternative is Hungry root (www.hungryroot.com). This is pasta made from vegetables. It is available in carrots, turnips, beets, rutabaga, sweet potato and zucchini. The package comes with everything you need for a meal although I recommend using your own homemade sauce as the packaged sauce adds a lot of sugar and carbohydrate to the meal.If you like the idea of spiralized vegetables which are delicious and healthy alternatives to pasta, you can invest in a spiralizer. This one is for sale on Amazon.com for $34.00 (Paderno World Cuisine Spiralizer. This device allows you to create your own fresh pasta from vegetables you can find in any grocery store. Choose one of these great alternatives today and enjoy what you miss but with more flavour and fewer calories!