Surgeon Spotlight: Welcome Dr. Sehkar
The New York Bariatric Group is happy to announce the newest addition to our experienced and comprehensive team. Welcome Dr. Nikhilesh R. Sekhar.

Dr. Sekhar spent his childhood in the Bronx, New York and then in New Jersey. He graduated from college at The Johns Hopkins University. He completed Medical School at UMDNJ-New Jersey Medical School in Newark, NJ. He completed his general surgery training at Lenox Hill Hospital, New York, NY. Following completion of his general surgery training, Dr. Sekhar completed a fellowship in Advanced Laparoscopic and Bariatric Surgery at Vanderbilt University Medical Center in Nashville TN under the tutelage of the pioneering surgeon William O. Richards, MD. There he developed unique expertise in the treatment of achalasia and gastroesophageal reflux, in addition to his extensive bariatric surgery training.
At the completion of his fellowship he became one of the first surgeons in the country to develop a robotic surgery program. Dr. Sekhar worked with gynecologists to create and implement a robotic, minimally invasive cancer surgery program. He also honed a wide range of other skills including EGD, colonoscopy, esophageal motility and reflux testing as well as the full range of minimally invasive surgery.
Dr. Sekhar has performed hundreds of bariatric procedures including Laparoscopic Gastric Bypass, Laparoscopic Sleeve Gastrectomy and Laparoscopic Adjustable Gastric Banding. He also has an extensive advanced laparoscopic background performing laparoscopic Nissen for reflux, laparoscopic inguinal and ventral hernia repair, laparoscopic colectomy and laparoscopic lymphadenectomy. In addition he has an extensive experience in Robotic surgery for achalasia and other esophageal disorders.
Board Certification: Surgery
Fellow of the American College of Surgeons
Society Memberships:
American College of Surgeons, American Society for Metabolic and Bariatric Surgery, Society of American Gastrointestinal and Endoscopic Surgeons
Survival Guide to Summer Eating
Now that summer is here- bring on the cookouts! Along with those summer cookouts comes the fear of sticking to your diet. So, how can we be successful and reduce these cravings of indulgence? With these 5 simple tips and tricks you will be able to walk away without any guilt: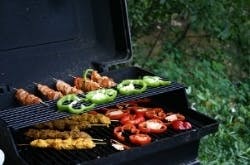 1. Stay Hydrated– DRINK! Water, Water and more water… hunger and thirst can be easily confused. Carry a refillable water bottle with you and remind yourself that our bodies are made up mostly of water and that water needs to be constantly replenished. Stay far away from sugary sodas or juices as they will not hydrate you as well are often unhealthy and carry those extra calories you don't need.
2. BYO – Bring your own healthy dish! Don't know what they will be serving? Don't know if it will be healthy? Prepare your own healthy dish and bring it along. Using your own delicious, fresh and healthy ingredients, craft a dish that suits your health and high protein needs.
3. Stay Focused, say no to alcohol- When we drink alcohol, we lower our inhibitions and become more laid back and less diligent about our goals. Replace it with water! You will be able to stick to your goals better as well as reducing those wasteful calories that come from drinking.
4. Small Plate Rule- If you have a choice between a large plate and a small plate chose a small plate. The chances that you will gorge yourself with the amount of food on a small plate vs. the amount of food you would put on a large plate is much less. It will also make you stop and think about going for thirds and fourths.
5. Drop the Bun– Go for your veggies and lean meat first… Drop that bun! It's just filler anyway, you don't need it. Protein from lean meats and fresh grilled veggies will keep you fuller, longer. Your waistline will LOVE you for it too!
New York Bariatric Group on Pinterest
We are now on Pinterest! We have numerous boards filled with post operative exercises, healthy recipes and numerous patient testimonials. Give us a follow! Click here to check out our pinterest page.

Do You Know Your Blood Pressure?
Less is better in some things, including in blood pressure. About 1 of 3 US adults—67 million people—have high blood pressure. High blood pressure makes your heart work too hard and increases your risk of heart disease and stroke.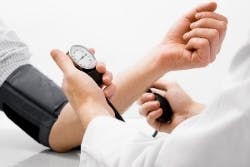 You can have high blood pressure and not know it. That is why it is called the silent killer. It is also why it is so important to have your blood pressure checked. If you know family or friends who haven't had their blood pressure checked recently, make it a point to ask them to do it in May, National High Blood Pressure Education Month.
It is easy to check blood pressure and it is painless. It can be checked by your doctor, and many pharmacies have free screenings.
For those that currently suffer from high blood pressure, read below how bariatric surgery can help you!
Hypertension is the term for elevated blood pressure. If your blood pressure is 135/85 or higher each time it is measured and you are under age 65, you have hypertension.
Normal blood pressure is generally defined as less than 120/80mm Hg (millimeters of mercury pressure). The maximum acceptable systolic (the first number listed) pressure is 120, which is developed when the heart is pumping; and the maximum acceptable diastolic (the second number) pressure is 80mm Hg. As either or both of these numbers rise, the work of the heart and blood vessels (to pump the blood through the body) increases and thereby increases the risk of major complications, such as heart attacks, hardening of the arteries, stroke and heart failure.
Many different factors are associated with high blood pressure: heredity, sex, age, race, stress, smoking, a diet high in salt, heavy use of alcohol, and especially obesity. Many of these risk factors (like heredity, age, sex, and race) cannot be controlled so it is important to control those that can (like obesity, smoking, diet and alcohol use).
Blood pressure is determined by a complex system of circulating hormones, many of which are made in fat tissue. These hormones control the diameter of the arteries and thereby control the pressure in the arteries. The reasons that obesity causes hypertension are multiple, but it seems that the excess fat tissue secretes substances that cause hypertension. In addition, with obesity there are generally higher amounts of insulin produced (because of the excess fat tissue),and this excess insulin also elevates blood pressure.
By losing weight (and, in turn, losing fat tissue) your body will produce less of these hormones that cause the hypertension. The weight loss that results from bariatric surgery has hypertension cure rates (meaning patients can come off their hypertension medications and maintain consistently normal blood pressure), of up to 98%.
Monthly Recipe:
Zesty Lime Shrimp with Avocado
Servings: 4
Serving Size: 7/8 cup
Calories: 210
Fat: 9 g
Protein: 25 g
Carbohydrate: 8 g
Ingredients
1 lb jumbo cooked shrimp, peeled and deveined, chopped
1 medium tomato, diced
1 Hass avocado, diced
1 jalapeno, seeds removed, diced fine
1/4 cup chopped red onion
2 limes, juice of
1 tsp olive oil
1 tbsp chopped cilantro
salt and fresh pepper to taste
Directions
In a small bowl combine red onion, lime juice, olive oil, pinch of salt and pepper. Let them marinate at least 5 minutes to mellow the flavor of the onion.
In a large bowl combine chopped shrimp, avocado, tomato, jalapeño. Combine all the ingredients together, add cilantro and gently toss. Adjust salt and pepper to taste