NJ Governor Chris Christie Weight Loss Secret Revealed:

LAP-BAND Procedure

Recently, New Jersey Governor revealed to the public that he underwent Lap-Band surgery. Governor Christie has lost approximately 40 pounds since his surgery in February. Dr. Garber interviewed with the Daily Beast discussing the details regarding the LAP-BAND Procedure. Read below to learn more about the LAP-BAND procedure and see if it is the right surgery for you.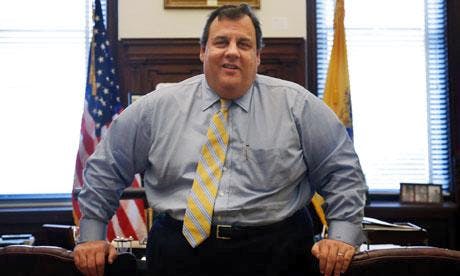 It's minimally invasive (no staples required)
Having a silicone band wrapped around one's stomach may sound like an elaborate form of torture, but it's actually the least invasive weight-loss surgery available. Where gastric bypass surgery requires carving up the abdomen, lap band is done via a small incision through the belly button. "There's no stomach cutting or stapling involved," Dr. Shawn Garber, director of the New York Bariatric Group, tells The Daily Beast.
It's also safe and speedy
Garber, who has performed band surgery on more than 3,000 patients, says it's by far the safest weight-loss procedure. The window of recovery is much shorter than other surgeries, he says, with most patients leaving the hospital the same day they came in. It's also the only procedure that isn't permanent, since the band can be removed just as easily as it's put on. But by the same token, it can fall off (commonly referred to as "band slippage") or erode from exposure to stomach acids, though this occurs only in roughly 5 percent of patients.
So why do more people get full tummy tucks?
Patients don't shed pounds as quickly after lap band as they do with other surgeries. Christie would likely have dropped twice as much weight by now had he chosen one of the other procedures, according to Garber. The lap band also requires multiple follow-up visits so that it can be tightened as patients adjust to eating smaller portions.
Simply put, it's not the quick-fix solution that many obese patients want. "It doesn't work by itself," says Garber. "We tell patients that all these surgeries are tools for weight loss. They're not cures for obesity."
What were Christie's other options?
Garber says the most common bariatric surgery is the Roux-en-Y gastric bypass, in which surgeons both shrink the stomach by stapling a portion of it together to limit food intake and reroute the digestive tract to bypass part of the intestines. Patients tend to lose weight quickly and keep it off, which explains why the procedure accounts for 50 percent of the 200,000 or so bariatric surgeries performed in the U.S. every year.
Click here to read more about Dr. Garber's interview with the Daily Beast on Governor Christie's LAP-BAND procedure. If you would like to schedule a consultation with our office to speak with a surgeon about the Lap-Band procedure, call 800-633-THIN.
ATTENTION: All Patients Seeking Revision Surgery!
Have you regained weight after your initial weight loss surgery, such as the Gastric Bypass? Have you considered revisional bariatric surgery?
The New York Bariatric group is now offering for qualified patients an endoscopic procedure to reduce the volume of the enlarged pouch and the diameter of the outlet between the stomach and the intestines. The Endolumenal Revision procedure using specialized Apollo devices is performed using a small flexible endoscope which is inserted through the mouth and into the stomach pouch. Sutures are then placed around the outlet to reduce the diameter.
Are you interested in learning more about revision bariatric procedures? Call our office at 800-633-THIN to schedule a consultation and Click Here to register for an online revision seminar presented by one of our surgeons to learn more about these procedures.
Get In Shape with Exercise Physiologist, James Verdisco!
We are excited to announce our partnership with Exercise Physiologist James Verdisco! Together, we have developed a program exclusive to New York Bariatric Group patients. The program will begin with an Initial Fitness & Wellness Evaluation, which consists of a wide range of tests to determine the best way to achieve your weight loss goals!
A 50% discount is now being extended to NYBG patients for the initial evaluation and any patient that signs up for a 1 year membership receive 1 FREE MONTH. Visit http://www.jpverdisco.com/ for more information.
Click here to learn more about J.P. Verdisco Exercise Health & Fitness Inc.