Spring Cleaning & Calorie Burn
With all of that snow finally melting, we all know what time it is…SPRING CLEANING! Spring is in the air and it provides us an opportunity to throw open the windows, let some fresh air in, and make our homes clean, happy and efficient spaces. Like any physical activity, chores you do around the house and garden can burn calories and stretch and tone muscles. Below is a list of spring cleaning tasks that you can do around your home and how many calories you will torch while completing them. It's motivating to see even the simplest of tasks will add to your daily calorie burn. And don't you dare forget–summer is right around the corner!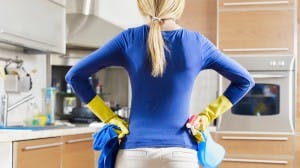 | | | |
| --- | --- | --- |
| Calorie burning activity | 15 min | 1 hour |
| Carpet sweeping, sweeping floors | 39 | 156 |
| Cleaning, heavy or major, vigorous effort | 34 | 136 |
| Mopping | 43 | 170 |
| Multiple household tasks all at once, vigorous effort | 51 | 204 |
| Cleaning, house | 34 | 136 |
| Washing dishes | 22 | 88 |
| Vacuuming | 43 | 170 |
| | | |
| Doing laundry, packing suitcase (while standing) | 17 | 68 |
| Putting away clothes | 22 | 88 |
| Making the bed | 17 | 68 |
| | | |
| Moving furniture and household items, carrying boxes | 85 | 340 |
| Scrubbing floors on hands and knees | 48 | 190 |
| Sweeping garage, sidewalk, or outside of house | 51 | 204 |
| Watering plants | 26 | 102 |
| | | |
| Standing – bathing dog | 43 | 170 |
7 Reasons to Love Spring
Birds are chirping & flowers are blooming. When spring hits, it's hard to feel down in the dumps. The good news is that all the things we love about spring are surprisingly good for us, too, so as you pack up your winter coat for next year, check out 7 reasons to be excited about the new season.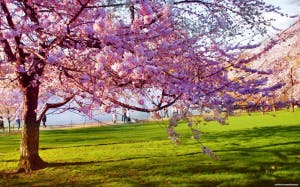 Extra daylight. Springing forward for daylight saving time feels rough the day after, but the benefits are far-reaching. In addition to giving us more time to spend outdoors and serving as a natural mood booster, that extra hour of light may help reduce traffic accidents and fatalities.
A healthier home. During warmer weather, open your windows and let the sunshine in while you spring clean and organize your home. Not only will a more streamlined space help you feel more in control of your day-to-day life, it could also make you fitter.
A spring-cleaned diet. Get rid of your cold-weather diet with a dose of fresh spring produce. Peas, asparagus & kale are just a few of the fresh foods that reach their peak during spring.
Outdoor exercise. If winter is too cold and summer is too hot, spring is just right for outdoor exercise. Whether it's an after-dinner walk or an early-morning run, longer days and moderate temperatures are perfect reasons to take your workout outside.
The return of America's favorite pastime. For sports fanatics, no season is sweeter than the one that starts with NCAA March Madness and goes through opening day of Major League Baseball. And all that time obsessing over team sports has benefits, such as the emotional perks that come with social interaction and feelings of community around a sports team.
No more winter skin. Gone are the freezing temps and harsh winds that wreak havoc on your skin and hair. It can be tempting to skip moisturizing once you no longer feel like you need it, but remember that sun protection with a daily SPF of at least 15 is essential year-round.
Spring break! Whether spring vacation means relaxing by a beach or a more local staycation, getting away at the end of winter has definite health benefits. Participating in leisure activities at home or away can reduce risks for diseases and help manage stress!
Happy National Nutrition Month!
Sharon George, is our Certified Nutritionist and Registered Dietitian with the New York Bariatric Group. She has been specializing in Bariatric Nutrition since 2003. It's Sharon's responsibility to meet with each of the surgeon's patients before surgery to help educate them on the special nutritional guidelines they will need to follow after bariatric surgery. In reality she becomes a patient's personal dietitian. Sharon helps each patient in making appropriate post bariatric surgery diet changes to improve their nutritional lifestyle by guiding them in their meal patterns based upon their personal preferences, along with the specific procedure they underwent, such as the differences between post lapband diet and post gastric sleeve diet guidelines. Although every patient receives a comprehensive nutritional manual to use as a reference to whichever surgery they are having we recognize that in the beginning patients benefit from having someone that they can work with in selecting menu options. Here at the New York Bariatric Group they get that help. In Sharon's own words "I try to meet with all our patients throughout their first year after having their surgery to make their experience positive and healthy."
"I see my job as being part supporter, educator, cheerleader and friend to each of our patients as they start their weight loss journey. It gives me and everyone here at NYBG a great sense of satisfaction when we hear another one of our patients has been able to achieve their personal goals with our help."To schedule an appointment with Sharon, please call 800-633-THIN.
Monthly Recipe: Thai Tofu Quinoa Bowl
Servings: 6
NUTRITION FACTS (1 serving, 1/6 of recipe)
Calories: 232
Total Fat: 10 g
Total Carbohydrates: 27 g
Dietary Fiber: 4.5 g
Sugars: 4 g
Protein: 12 g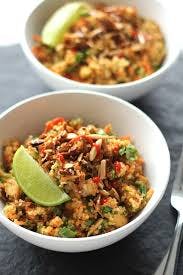 Ingredients
1 package extra firm tofu (15 oz), diced
2 tablespoons soy sauce
1 tablespoon sesame oil
1 cup uncooked quinoa
1½ cups chicken broth
½ cup slivered almonds
1 cup shredded carrots
2/3 cup chopped scallions
½ cup fresh cilantro
For the sauce
2 teaspoons creamy peanut butter
2 tablespoons Srircha sauce
2 tablespoons rice wine vinegar
3 tablespoons coconut milk
½ tablespoon brown sugar
1 garlic clove, minced
½ lime, juiced
1 teaspoon grated ginger
Instructions
Drain and rinse tofu. Wrap in clean dish towel and place on rimmed dinner plate. Place another plate on top and weight down with something heavy to press out some of the excess liquid. Let sit 15-30 minutes.
Preheat oven to 350° F.
Toss tofu, soy sauce and sesame oil in bowl.
Place tofu in single layer on lined baking sheet.
Bake for 35-40 minutes tossing every ten minutes to crisp tofu on all sides.
Toast and cook quinoa. Place a medium sizes sauce pan on medium low heat
Add in dry quinoa and toast for 5 minutes, stirring occasionally until golden brown. Add broth to quinoa, lower heat slightly. Cover and cook for 12-15 minutes or until all liquid is absorbed.
Fluff with a fork and set aside.
Make the sauce: Place peanut butter in bowl and microwave for 10 seconds to melt. Add remaining ingredients and whisk well to combine.
Toast the almonds. Place almonds in small sauce pan. Cook on medium low heat, stirring occasionally until almonds are golden grown.
Toss together quinoa, vegetables, herbs, tofu, and nuts.
Pour sauce over everything and toss to combine. ENJOY!