1 Year Anniversary of our Roslyn Heights Office!
The New York Bariatric Group is proud to celebrate our 1 year anniversary at our Roslyn Heights location! Check out this video to get a first-hand glimpse of our modern and spacious Roslyn Heights office, equipped with a state of the art AAAASF certified endoscopy suite, and a four-bed sleep lab. With a team of highly experienced surgeons offering the most innovative and successful treatments, and a world-class bariatric program, you can be confident that we'll guide you down the path to real results.
Now that you've gotten an up close view of our state of the art facility, call our office at 800-633-THIN to schedule a consultation with our team!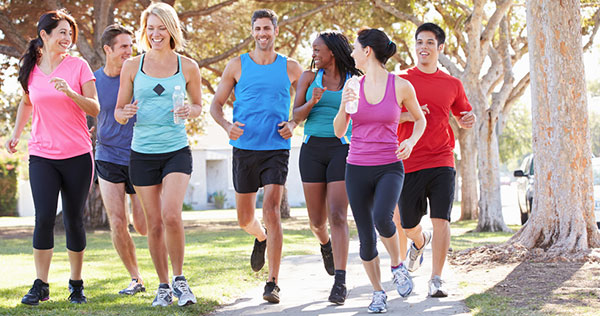 Tips for Exercising in the Summer
Summer is in full swing and it's finally time to go outside and soak up some sun! Summer gives you the opportunity to take your workouts outside– but along with the warmer weather comes extreme heat and humidity. Here are a few tips to help you get through your summer workouts:
Avoid the hottest time of the day- Avoid exercising outside between 10am till 3pm where temperatures are the highest. If mornings aren't an option, check a weather app to find out the lowest temperatures during the day. Wear loose and light colored clothing- Avoid wearing dark workout clothing that absorbs heat. Light and loose clothing will help you keep cool during your workout. Don't forget to wear a hat to keep the sun off your head! Wear Sunscreen – Always protect your skin; even when you are outside getting your sweat on! Stay Hydrated! – Before working out outside, drink water to stay hydrated during your workout. When you sweat, you lose a lot of water and electrolytes. Don't forget to replenish your fluids post-workout. Exercise in cooler places – Shaded trails will help keep you cool on the hot summer day! But most importantly…listen to your body – if you start feeling dizzy or nauseous, stop exercise immediately.
Cajun Chicken Stuffed With Pepper Jack Cheese and Spinach Recipe
Servings: 4
Yield: 4 ounces
Preparation time: 10 minutes
Start to finish: 20 minutes
Serving ideas: Garnish with fresh chopped basil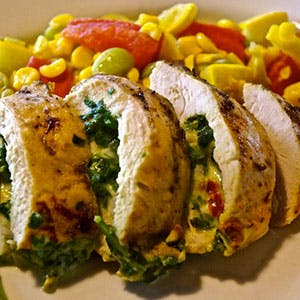 Nutrition Facts
1 serving (4 servings per recipe)
Calories: 241
Total Fat: 9.7g
Total Carbohydrates: 2g
Dietary Fiber: 1g
Sugars: 0g
Total Protein: 32g
Ingredients
1 lb (16 oz) boneless, skinless chicken breasts
3 oz reduced fat pepper jack cheese (Shredded)
1 cup frozen spinach thawed and drained (or fresh cooked)
2 tsp olive oil
2 tbsp Cajun seasoning (see recipe below if you want to make homemade)
1 tbsp bread crumbs
Toothpicks
Directions
Preheat oven to 350º F degrees.
Flatten the chicken to 1/4-inch thickness.
In a medium bowl, combine the pepper jack cheese, spinach, salt and pepper.
Combine the Cajun seasoning and breadcrumbs together in a small bowl.
Spoon about 1/4 c of the spinach mixture onto each chicken breast. Roll each chicken breast tightly and fasten the seams with several toothpicks.
Brush each chicken breast with the olive oil. Sprinkle the Cajun seasoning mixture evenly over all.
Sprinkle any remaining spinach and cheese on top of chicken (optional).
Place the chicken seam-side up onto a tin foil-lined baking sheet (for easy cleanup).
Bake for 35 to 40 minutes, or until chicken is cooked through.
Remove the toothpicks before serving. Count to make sure you have removed every last toothpick.
Serve whole or slice into medallions.Cajun Seasoning (makes approximately 2 tablespoons)
¾ tbsp paprika
¾ tsp onion powder
¾ tsp garlic powder
¼ tsp black pepper
½ tsp cayenne pepper
¼ tsp white pepper
¼ tsp cumin
¼ tsp thyme
¼ tsp oregan