Dr. Shawn Garber Featured in Newsday
Are you wondering if you are a candidate for bariatric surgery? Tired of dieting? For the right candidate, weight loss surgery can not only help someone lose weight, but can also improve co-morbid conditions such as diabetes and hypertension, and improve overall quality of life.
Dr. Shawn Garber is featured in a recent Newsday Article,Weight- Loss Surgery, Are You a Candidate? Click here to read more. Call our office at 800-633-THIN to schedule a consultation with one of our leading bariatric surgeons.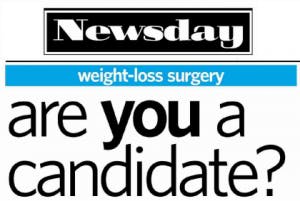 Patient Spotlight: DJ Mo Bounce
Location: Brooklyn, NY

Age: 33

Total Weight Lost: 105

Surgery date: January 2012

Presurgery BMI: 39
"I was always an active kid but as an adult I couldn't keep the weight down, even while staying active. I tried every and any diet, Weight Watchers etc., would lose some weight then put it right back on. Once I was educated on the procedure, it became a no-brainer, especially since it would be covered by insurance. I no longer suffer from sleep apnea or high cholesterol and i feel so much better about myself!"
Have you seen our new commercial featuring our successful patient DJ Mo Bounce? Click on the video below to see it now!
Spring Into Action!
April's the time of year when flowers are blooming, the sun is shining and it's finally warm enough to safely step out of the house without major gear on to keep warm. The new season is exciting, refreshing and renewing after an incredibly cold and long winter. But after being bundled & cooped up for months, where do we start? What do we do? How do we do it?
Well, the American Heart Association recommends 30 minutes of moderate exercise at least 5 days per week. If you are just starting to incorporate an exercise regimen into your daily routine this is a great time of year to….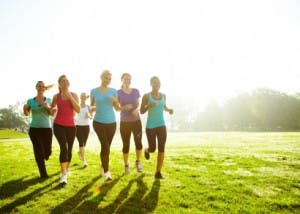 Spring Into Action!!!
It's often daunting trying to get started. Set a goal & start off at your own pace to build your way up to the AHA recommendation.
Here are 10 invigorating outdoor activities to get you motivated to hit your goals this spring!
Take a long walk around the neighborhood.
Go for a bike ride.
Explore local hiking trails.
Literally stop and smell the flowers.
Stare at the clouds and guess their shapes.
Kick the soccer ball around.
Toss a Frisbee back and forth.
Take your dog for a long walk. (if you have one)
Grab the binoculars and see what kinds of birds you can spot.
Break out the hula-hoops and shimmy to your heart's content.
Monthly Recipe: Protein Zucchini Boat
Servings: 8
4 medium zucchini
1 pound ground turkey breast
1/2 cup chopped onion
1 egg, beaten
½ lbs sliced mushrooms
1 large tomato— diced
3/4 cup spaghetti sauce
1/4 cup seasoned whole wheat bread crumbs
1/4 teaspoon salt
1/4 teaspoon pepper
1 cup (4 ounces) shredded low fat mozzarella cheese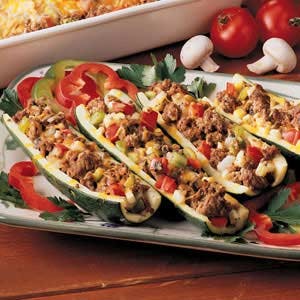 Directions
Cut zucchini in half lengthwise; cut a thin slice from the bottom of each with a sharp knife to allow zucchini to sit flat.
Scoop out pulp, leaving 1/4-in. shells. Set pulp aside.
Place shells in an ungreased 3-qt. microwave-safe dish. Cover and microwave on high for 3 minutes or until crisp-tender; drain and set aside.
In a large skillet, cook ground turkey and onion over medium heat until meat is no longer pink; drain. Remove from the heat.
In a large bowl mix together zucchini pulp, beaten egg, spaghetti sauce, bread crumbs, mushrooms, tomato, salt, pepper, 1/2 cup cheese, and cooked ground turkey.
Spoon about 1/4 cup mixture into each shell.
Sprinkle with remaining cheese.
Bake uncovered for 20 minutes at 350º F or until brown.
Nutritional Analysis Per Serving (1 zucchini boat or 1/8 recipe):
Total Calories: 195
Total fat: 7.5g
Saturated Fat: 3g
Sodium: 294 mg
Total carbohydrates: 16g
Dietary Fiber: 4g
Sugars: 5g
Protein: 17.5g