Protecting Heart Health With Weight-Loss Surgery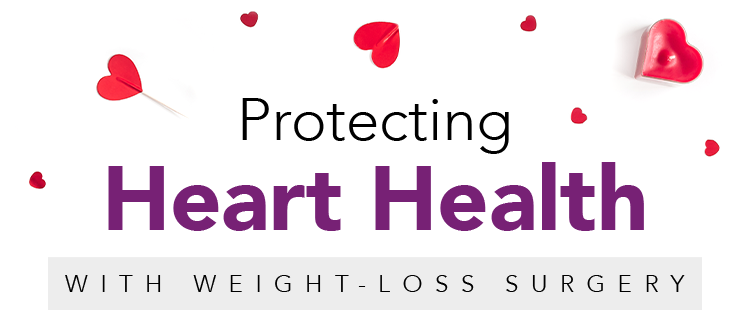 February isn't just about Valentine's day, it's also American Heart Health month. Heart disease
is the leading cause of death around the world. Here in the United States, it claims nearly 700-
thousand lives a year. Obesity is linked to many risk factors that affect the heart including:
High Blood Pressure
High Cholesterol
Type 2 Diabetes
Inflammation
Sleep Apnea
Johns Hopkins researchers call obesity a silent killer. They say obesity itself can cause heart
muscle injury even with the absence of known markers for heart disease, such as high blood
pressure, diabetes and high cholesterol. Researchers say even being somewhat overweight can
put people at higher risk for heart problems. They predict by 2030 one in five adults may have
heart failure due to the growing obesity rate in America.
BARIATRIC SURGERY AIDS IN HEART HEALTH
The good news is that bariatric surgery can help improve these risks and ultimately heart health!
A recent study discovered that long-term weight-loss surgery can significantly reduce the risk of
heart attacks, strokes and angina in patients.
Researchers analyzed data from patients with a body mass index (BMI) higher than 40 and also
had nonalcoholic fatty liver disease, which is often associated with obesity. 35% of the patients
had bariatric surgery and of those they had a 49% decrease in the risk of developing heart
attacks, heart failure or ischemic strokes.
"Reduction in heart disease is one of a few major reasons why bariatric surgery patients live
longer and have improved quality of life." according to Dr. Channing Chin, New York Bariatric
Group surgeon.
NYBG patient Rob, lost 240 pounds after bariatric surgery and got his blood pressure under
control. "I had two health risks that brought me to my weight loss surgery. One being high blood pressure and severe sleep apnea." Six months after Rob's surgery, "My primary took me off of
both of my blood pressure medications."
START YOUR HEART HEALTHY WEIGHT-LOSS JOURNEY
NYBG is here to help you start your successful weight-loss journey.
Even if you have a heart condition, don't let that stop you from exploring long-term weight-loss
surgery. New York Bariatric Group patients are thoroughly prepared for surgery and take part in
a complete medical evaluation including a cardiovascular health check.
Bariatric surgery is a safe, effective long-term weight-loss solution that helps thousands of
people lose weight and keep it off. Many studies show that patients maintain 50% to 70% loss
of excess weight 10+ years after bariatric surgery.
We're the best practice around and our numbers prove it:
27 skilled surgeons who are leaders in bariatrics, 2 Plastic Surgeons, 21 PA's, 1
Colorectal Surgeon, and 1 Vascular Interventional Radiologist.
36,000 successful procedures performed with more every day
The #1 gastric balloon practice by volume – most balloons placed in the United States
Access to online seminars, support groups, cooking demos, and Q-and-A sessions
100s of videos for patients explaining procedures, answering common questions, and
showcasing previous patients
Multiple offices located in three states; NY, NJ, CT
Since 2000, we boast over 20 years of success!
All of our hospitals are Metabolic Bariatric Surgery Accreditation and Quality Improvement
Program (MBSAQIP) accredited facilities, which is a prestigious designation bestowed upon
only the top quality bariatric programs.
Stop waiting; start achieving better health today. Together, we've got this!
New York Bariatric Group is implementing and enforcing strict guidelines put out by the Center
of Disease Control and the Department of Health in order to keep our staff and patients safe.
We are offering in-person and virtual consultations to ensure that everyone is able to get the
information and care they deserve without feeling pressure to leave their home.