Get Your Legs Ready for Summer with NYBG Veins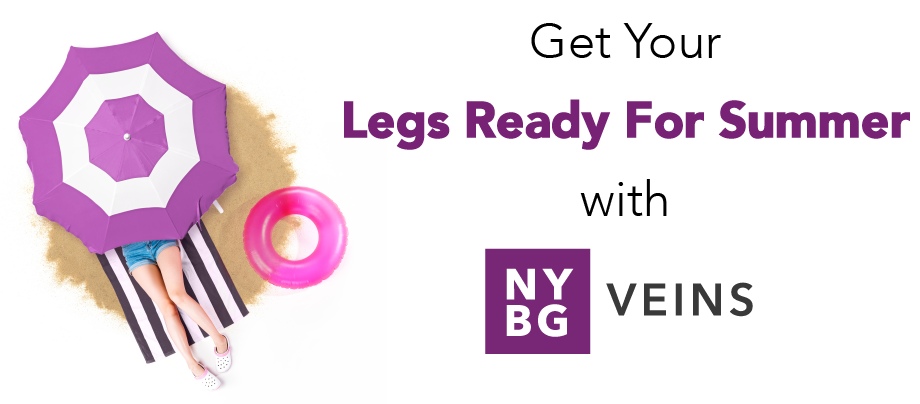 Spring is here and summer is just around the corner. If you are feeling self-conscious about wearing shorts or a bathing suit because of unsightly or painful leg veins? You are not alone, millions of people suffer from vein disorders. For most people, vein conditions do not pose a serious health risk, but they can be uncomfortable and unsightly, and may cause a number of problems for those who suffer from them.
What Causes Vein Disease?
Vein disease is usually caused by damaged or weak vein walls or valves. Tiny valves in your veins work against gravity, pushing blood back up to your heart. When these valves become weak or damaged, they become inefficient, and blood begins to pool in your veins instead of traveling to the heart. This increases the blood pressure in your veins, causing them to swell and enlarge. Genetics play a role in the development of vein conditions, as do old age, pregnancy, standing for long periods of time and obesity.
Founder of New York Bariatric Group, Dr. Shawn Garber explains why it was essential to develop NYBG Veins and provide resources to address vein disease, especially for those who are symptomatic and overweight. "Extra weight increases venous pressure and causes veins to stretch, dilate and bulge. Patients should consult a qualified vein specialist who has the skill and experience to properly address the condition, alleviate pain, and improve health outcomes."
NYBG Veins Treatments
NYBG Veins treats a full range of vein conditions from spider veins to varicose veins with minimally invasive treatments. Advanced treatment options available at NYBG Veins include:
Ablation Therapy - which includes Radiofrequency Ablations (RFA), Endovenous Laser Ablation (EVLA) and Endovenous Adhesive Ablation with VenaSeal
Sclerotherapy
Ambulatory Phlebectomy
Unique treatment plans are designed for each patient depending on their vein condition. If a patient's vein condition is more severe, an extensive plan may be required. For milder cases, a single treatment could be all that is needed to treat the vein condition.
NYBG Veins is led by accomplished Interventional Radiologist Dr. Jiyong Ahn. Dr. Ahn brings over 20 years of experience in diagnostic and interventional vascular radiology. By combining minimally invasive image-guided techniques with specialized training in phlebology, Dr. Ahn and his team provide patients with customized vein treatment plans with reduced risks, less pain, and faster recovery.
"We provide best-in-class techniques to treat vein disorders in a patient friendly environment," says Dr Ahn.
If you experience any of the following problems with your legs:
Aching
Throbbing
Heavy sensation
Itching
Burning
Changes in skin color
Lumps beneath the skin
Skin sensitivity
Muscle cramps
Swelling
You may be a good candidate for a consultation at NYBG Veins in Cortlandt Manor, NY, Roslyn Heights, NY and Farmington, CT.
NYBG Veins
NYBG Veins is an affiliate of the New York Bariatric Group, the recognized leader in bariatric surgical procedures that elevate the standard of treatment with the most recently developed, innovative technologies and surgical techniques. NYBG Veins is committed to providing patients minimally invasive venous treatments that result in healthier legs.
NYBG Veins accepts most major insurances. For more information or to schedule an appointment, call 888-8-NYVEINS or visit StopObesityForLife.com.
New York Bariatric Group
We're the best practice around and our numbers prove it:
Over 30 surgeons who are leaders in bariatrics, plastic surgery, veins, and medical weight loss.
36,000 successful procedures performed with more every day
The #1 gastric balloon practice by volume – most balloons placed in the United States
Access to online seminars, support groups, cooking demos, and Q-and-A sessions
100s of videos for patients explaining procedures, answering common questions, and
showcasing previous patients
Multiple offices located in three states; NY, NJ, CT
Since 2000, we boast over 20 years of success!
All of our hospitals are Metabolic Bariatric Surgery Accreditation and Quality Improvement Program (MBSAQIP) accredited facilities, which is a prestigious designation bestowed upon only the top quality bariatric programs.
Stop waiting; start achieving better health today. Together, we've got this!
New York Bariatric Group is implementing and enforcing strict guidelines put out by the Center of Disease Control and the Department of Health in order to keep our staff and patients safe. We are offering in-person and virtual consultations to ensure that everyone is able to get the information and care they deserve without feeling pressure to leave their home.